Sweet Potato & Butternut Squash with Pecans for Thanksgiving Day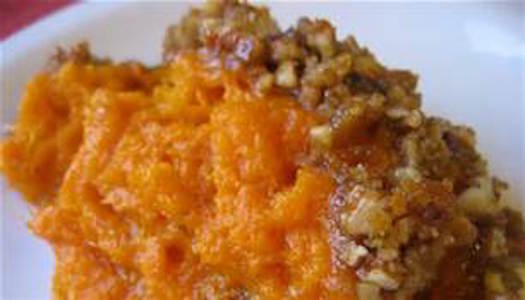 Here's a wonderful, delicious and very clean & healthy traditional Thanksgiving Day dish, from a fellow colleague, Tracy Konoske, Registered Dietitian. Check out her website to also learn all the health benefits of this delicious side dish.  Don't forget to watch your portion size to minimize carbohydrate.
Get Clarity Now on the Use of Bioidentical Hormones (for Men & Women): FREE PROGRAM
Ingredients:
For the mashed squash/sweet potato mixture:
3 large sweet potatoes, washed and halved (skin on) 1 small butternut squash, cubed
2 Tbsp coconut oil, melted and divided
sea salt + black pepper
Cinnamon, just a pinch
1 Tbsp pure maple syrup
1 Tbsp ghee
For the pecan topping:
1 cup pecans, chopped
1 Tbsp coconut oil
1 Tbsp coconut sugar
1 Tbsp maple syrup
Pinch ground cinnamon
Pinch sea salt
Directions:
Preheat oven to 400 degrees F.
Line 2 baking sheets with parchment paper and lightly grease a 8 x 8 baking dish.
Add the halved sweet potatoes to one baking sheet, and the cubed butternut squash to the other. Lightly toss each with 1 Tbsp of melted coconut oil and salt and pepper to taste.
Roast butternut squash for 15 minutes, or until very tender and easily mashed. Remove from oven and set aside.
Roast the sweet potatoes for 20-35 minutes or until very soft and easily mashed. Remove from oven and set aside.
Reduce oven heat to 350 degrees F.
Heat a large non-stick skillet over medium heat. Add the chopped pecans and toast for 5 minutes, stirring frequently. You may need to lower the heat if they begin to brown or smoke too quickly.
After 5 minutes, add coconut oil, coconut sugar, maple syrup, cinnamon, and salt. Stir to coat and cook for another 1-2 minutes. Remove from heat and set aside.
Peel sweet potatoes (optional- the skins are full of fiber and good for you!) and add them to a large mixing bowl with the butternut squash. Mash them together with a fork or potato masher. Add a little salt/pepper, cinnamon, maple syrup, and ghee.
Transfer the mixture to the prepared 8×8 baking dish and top with the toasted pecans.
Bake for 10-15 minutes, or until warmed through.
Allow to slightly cool then serve.
Serves: 6
Click to Learn How to Begin Working with Us
Other Thanksgiving Day Courses:
Sweet Potato & Butternut Squash with Pecans