Grain-Free Thanksgiving Day Gravy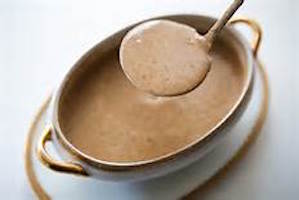 What's turkey and stuffing without gravy? A sin, that's what!
Conventional cooks usually add flour when thickening their gravy.  That's a no-no if the goal is to be gluten-free and minimizing carbohydates.  Commercial gravies contain flour (and gluten), and who knows what other unhealthy additives and GMO garbage.
Here's a very simple and delicious gravy that is gluten-free. It does contain starch, however, so it is not totally without carbohydrates, but it is significantly lower in carbohydrates than most gravies. I will give credit to Brittany Angell. Unfortunately, at the time of this writing, I could no longer locate a website for her, but if you find her website, please let me know!
The secret of this recipe is in the carmelized onions.  Yum!
Purchase the Micronutrient Testing Profile
Ingredients:
2 Tablespoons of Butter (dairy or nondairy) (or use turkey drippings)
1 onion finely chopped
1/4 Tsp. Black Pepper
1 1/2 Tablespoons of Starch (Potato Starch, Arrowroot or Tapioca)
5-6 Tablespoons of Blanched Almond Flour
1 1/4 Cup of Chicken Broth
1/2 Tsp. Garlic Powder
1 Tbs Heavy Cream OR Heavy Coconut Milk (optional)
salt to taste
Directions:
1. To a sauce pan add the butter, and onions. Cook over medium low heat for 20 minutes or so until caramelized (a beautiful golden brown color and cooked through).
2. Add the black pepper, starch and almond flour. Stir for 1 minute and then add the remaining ingredients.
3. Stir and gently boil until thick. If you want your gravy thicker feel free to add an additional 2-3 Tablespoons of almond flour.
4. Salt to taste. At this point I like to put the gravy in the food processor to get it 100% smooth (by grinding up the onions) but this step is 100% optional.
5. Gravy will thicken as it cools.
Purchase the Gastrointestinal Stool Profile
Other Thanksgiving Day Courses:
Sweet Potato & Butternut Squash with Pecans