Cranberry Sauce with Oranges and Fresh Mint for Thanksgiving Day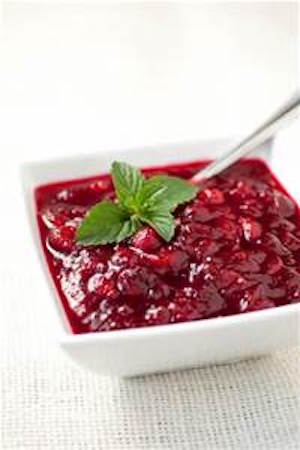 In our quest to continue a "clean and delicious" Thanksgiving Day meal, don't stop now and settle for "canned" cranberry sauce.  Oh no, that just won't do!  This recipe is from glutenfreeandmore. Warning:  It is high in sugar and carbohydrates!  Before adding all of the sugar it suggests, I would only add half (and try using coconut or date sugar). You can also try reducing the orange juice and oranges. However, I do think the oranges are key to this wonderful sauce, but just be aware of your carbohydrate total. You may choose later to have dessert instead of using your carbohydrate allowance in this manner. You can serve this warm or chilled.
Feeling Less Than Optimal? Download A FREE Hormone Balanced Quiz
Ingredients:
1 cup water
1  pound fresh cranberries, washed and drained
1  cup sugar or palm sugar
½  cup freshly squeezed orange juice
Zest of ½ blood orange or Clementine
4  blood oranges or Clementines, peeled and segmented, pith and membranes removed
1  tablespoon fresh mint, minced with three leaves for garnish
Directions:
In a medium saucepan, bring 1 cup water to a simmer.
Add cranberries, sugar, orange juice and zest. Stir until sugar is dissolved and cranberries begin to pop, about 20 to 25 minutes. Sauce will begin to thicken. If sauce doesn't thicken in 25 minutes, reduce to medium-low heat and cook for another 10 minutes.
Remove from heat. Add orange segments, stirring to combine.
Gently stir in fresh mint. Garnish with fresh mint leaves.
Serves 8-10.
End ERECTILE DYSFUNCTION NATURALLY WITH GAINSWave
Other Thanksgiving Day Courses:
Sweet Potato & Butternut Squash with Pecans
Cranberry Sauce with Oranges and Fresh Mint