The Best Turkey Ever for the Best Thanksgiving Ever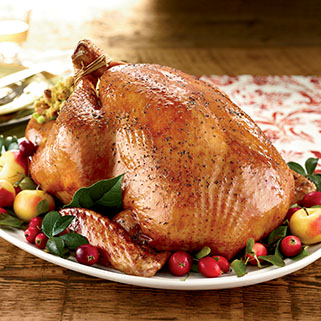 I have cooked lots of turkeys over the years, but I have to agree with Chef Lance Roll, in his assessment of his delicious turkey recipe. Chef Lance Roll is founder, owner, and operator of The Flavor Chef. He has been cooking professionally for over 25 years in high-end restaurants, conference centers, and teaching environments.
I need to give him and Sean Croxton credit for this recipe.  Sean provided this recipe to his followers one year and I am thankful that he did.
The Best Turkey Ever
There is nothing better than a home-cooked meal, especially a holiday meal!
Thanksgiving Day is special, and serving a juicy, delicious turkey dinner to your friends and family is of utmost importance. This nutrient dense cooking style allows for a rich development of flavor, delivering a moist and tender bird.
Look for pasture-raised birds that have developed muscular joints and a gamier flavor. The gaminess comes from the time these birds have had on pasture.
This is due to a couple of factors. The first is the muscular development from free grazing. When animals are allowed to roam freely — as is the case with properly-raised cattle — they will develop an elevated red blood cell count. You will notice pastured poultry has much darker meat. If you are familiar with game meats like pheasant, duck, and venison, the first thing you will notice is a much darker complexion to the meat.
End ERECTILE DYSFUNCTION NATURALLY WITH GAINSWave
For your Best Turkey Ever, use a brining process to help tenderize the meat. This creates flavor deep into the turkey meat. A brined bird is all set to receive a steam bath of flavors!
The turkey will be braised in a roasting pan, along with a generous portion of carrots, celery, onions, garlic, mushrooms, and fresh herbs, as well as additional parts of the turkey — including extra wings and the neck — and finally some genuine bone broth. We will then cover the pan with parchment and foil to create the perfect steam roast.
Prep Time: 12 to 24 hours for brining
Cook Time: Will depend on the size of your bird and the oven you are using.
Internal Temp: Cook the bird to at least 165 degrees internal temperature.
Tools You'll Need: brining pot, pan to season the turkey in, large roasting pan (appropriate size for your bird), proper knife, cutting board, roasting pan, tongs, meat fork, meat thermometer, parchment paper, foil, broth pot, and ladle.
Ingredients:
whole turkey (12 pounds and up) with extra neck and wings
2 carrots, cut on the bias 1-inch
2 celery stalks, cut on the bias 1-inch
2 onions, diced 1-inch
1 pound of mushrooms, washed
7-10 garlic cloves
fresh thyme
seasonings: sea salt, black pepper, all-purpose seasoning, granulated onion, granulated garlic, dried rosemary
16 to 24 ounces bone broth
Directions:
Simple Brine Formula: Place turkey in large pot and submerge in salt water (half cup of salt per gallon of water). Allow turkey to soak for 12-24 hours. This will create the environment for the bird to soften and tenderize. Filtered water is preferable. Note: Before placing the bird in the brine, remove the heart, liver, and giblets for a great pate.
[1] After removing the turkey from the brine, carefully pat it dry with paper towels.
[2] Season liberally, including the open cavity.
[3] Add chopped vegetables to the bottom of the pan to create the perfect turkey rack.
[4] Add the broth and seasoned bird to the pan. Cover with parchment and foil and then place in a 400-degree oven. Cook for 1 to 2 hours, depending on the size of your bird.
[5] The turkey will cook for 1-2 hours right side up. When ready, open the stove, remove the bird, and use tongs to flip it upside down. The foil and parchment cover will not go back on at this point. This flip will act as a self-basting for the turkey breast. Return to oven uncovered and reduce temperature to 350 degrees.
[6] Cook for another 40 minutes or so, then remove the turkey from the oven once again. Carefully flip the bird back onto its bottom. Return the bird to oven.
[7] Periodically check your turkey. Remove from the oven once it has reached a golden brown and an internal temp of about 165 or slightly higher. Do not undercook or overcook! You want it just right. That way, it's The Best Turkey Ever. 🙂
[8] Serve with delicious side dishes and be ready to hear raves from your family and friends!
Other Thanksgiving Day Courses:
Sweet Potato & Butternut Squash with Pecans