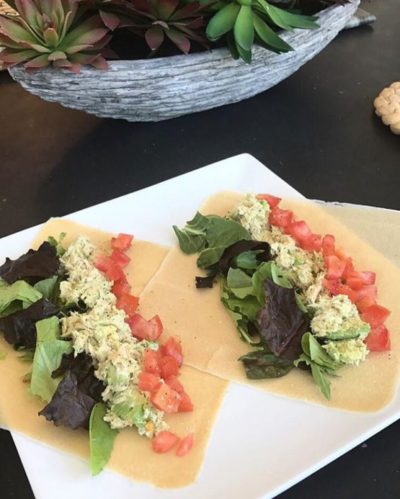 Ingredients:
Salad:
5- oz canned light tuna
1 red bell pepper, diced
1/4 cup walnuts, chopped
1 small green apple, chopped
1/2 cucumber, peeled, seeded and diced (or bread and butter pickles)
1/2 cup green or red onions to taste, chopped
1 tsp garlic, minced
Apple cider vinegar to taste
Wrap fixings:
Tomatoes, sliced
Spinach leaves
Pickles
Directions:
Mix all the salad ingredients together and spread on 2 coconut wraps. Add tomatoes, spinach leaves and roll up. Serve with pickles.
Servings: 2
Exchange Distribution per Serving:
3- lean proteins
2-healthy nuts (2-fats)
3-fats (avocado mayonnaise)
2- vegetables
1/2-fruit
1-carbohydrate
Get FREE Report that Reveals "3 Secret Steps to Weight Loss Freedom & Defeating Diabetes & Pre-Diabetes" AND FREE "Prescription Detox" Book Chapter