Thai Chicken & Sausage & Broccoli Soup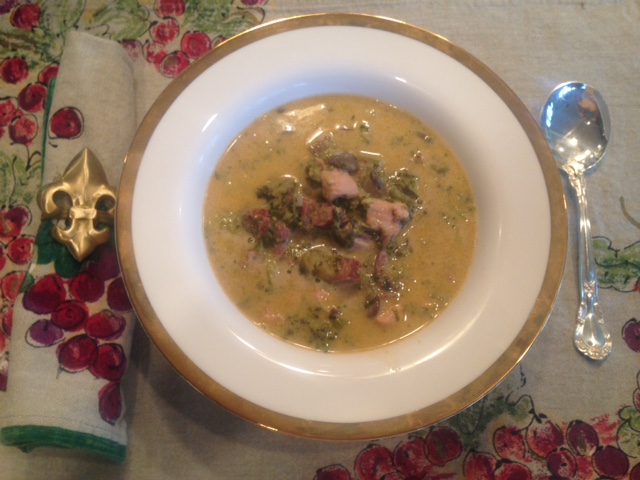 There's nothing greater than a bowl of healthy soup on a cold day that provides you all the nutrients you need in just one bowl. Even if it is not cold outside, soup always seems to hit the spot. This recipe is slightly modified from Elana's Pantry. Enjoy it with 2 to 3 sesame crackers and you have the perfect meal.
Even better, make a double batch and freeze in individual portion sizes for a fast stress-free meal after work. Enjoy.
Register for FREE Virtual Dispensary Access to Only High Quality Pharmaceutical-Grade Supplements: Ask Us How You Can Get 15% off When You Are A Wellness Program Member

Ingredients:
1 tablespoon coconut oil
3 shallots, chopped
1/2 cup cilantro, fresh, chopped
4 cups bone broth (or Pacific-brand broth)
28 oz coconut milk, canned
1 tablespoon honey (local is best)
8 ounces sliced baby portobello mushrooms
2 serrano chiles, diced
1 head of broccoli flowerettes
1/2 pound chicken breasts
1/2 pound andouille sausage (or other desired sausage)*
3 tablespoons lime juice, fresh
2 teaspoons red curry paste
3 tablespoons fish sauce
Directions:
1. Cut andouille sausage and chicken breast into bite-size pieces. Heat large soup pot and add sausage pieces and cook until grease is released. Add the chicken breast pieces and saute with the sausage until no longer pink. Remove from pot and set aside.
2. Warm coconut oil in a large saucepan over medium heat and add shallots, cilantro, serrano chilies, and mushrooms, stirring frequently until softened-2-5 minutes.
3. Stir in stock, coconut milk, honey and bring to a simmer.
4. Reduce heat to medium and add broccoli and cook until tender-2 to 3 minutes.
5. Combine lime juice, curry paste and fish sauce in a small bowl, then stir into soup.
6. Add back the cooked chicken and sausage mixture to the pot and heat thoroughly. Soup is ready when it reaches desired temperature.
Makes 8, 1 cup servings
* reduce the cholesterol and sodium content by eliminating the sausage and doubling the chicken
Nutrient Content:
375 calories
26.3 grams fat
20.5 grams saturated fat
200 mg cholesterol
800 mg sodium
17 grams carbohydrate
3 grams fiber
20 grams protein
Macronutrient Composition:
61% fat
18% carbohydrate
21% protein