Simple Mills Gluten-Free Crackers: Best Thing Since Sliced Bread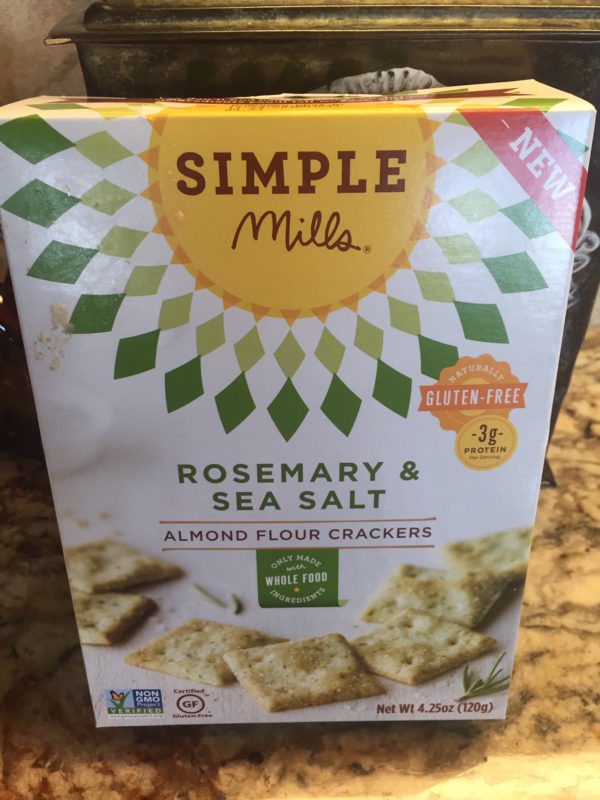 SIMPLE MILLS GLUTEN-FREE CRACKERS:  BEST THING SINCE SLICED BREAD
Simple Mills Gluten-Free Crackers are the best thing since sliced bread.  If you are not up to making your own gluten-free almond crackers, e.g. as the ones I made here, might I suggest a delicious alternative?  I just discovered these awesome snacks at one of my Favorite Places.  Simple Mills is known for their wonderful "gluten-free" almond flour breads, muffins, pancake mixes and more.
I love these crackers & the products made by "Simple Mills" because they are:
made with all natural & healthful ingredients
certified gluten-free
delicious
soy-free
paleo-friendly
vegan
and BEST of all (in my opinion)–>grain-free
Their "nut and seed" flour blend consists of almonds, sunflower seeds and flax seeds, all amazingly healthy ingredients.  Other wholesome ingredients are tapioca, cassava, organic sunflower oil, organic rosemary, organic onion, organic garlic, sea salt, organic pepper and rosemary extract (for freshness).
Because these crackers are "grain-free," they work well for people who are looking to reduce their carbohydrates and grains.  Containing only 1 gram of carbohydrate per cracker, they are perfect for all of us who are trying to stabilize our blood sugar, without giving up flavor and crunchiness.
These crackers will work wonderfully when eaten with dips, soups, cheese or meat salad.
Word of warning, however:  Do not open a box when you are hungry! Too much of a good thing can spell disaster.  For me, an open box is a gone box if I am very hungry and as good as they are, this is not a complete meal! My "Get Healed Naturally" principles will help you understand this and much more!
Let me know what you think about Simple Mills Gluten-Free Crackers.  Remember, you can find them at: