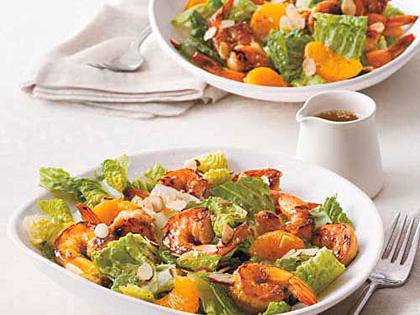 Ingredients:
2 tablespoons fresh-squeezed orange juice
1/4 cup coconut aminos
1 cup snow peas, steamed
1/2 cup cabbage, shredded
2 teaspoons grated fresh ginger
1 tablespoon honey
16 ounces medium shrimp, peeled and deveined
8 cups chopped romaine lettuce
2 mandarin oranges, segmented
2 tablespoons avocado oil
1/2 cup bottled Primal Kitchen Sesame Ginger Salad Dressing
1/3 cup slivered almonds, toasted
Directions:
1. In a medium bowl, whisk together orange juice, coconut aminos, ginger and honey. Add shrimp; toss to coat. Cover and refrigerate 15 to 30 minutes.
2. Place lettuce and mandarin orange segments in a large bowl. Drain shrimp; discard marinade. In a large skillet, warm oil over medium heat. Add shrimp and cook, stirring once or twice, until pink, 4 to 6 minutes per side.
3. Place shrimp in bowl with lettuce and orange segments. Pour dressing over salad and gently toss. Divide among 4 plates, sprinkle with almonds and serve.
Serves 4
Exchanges:
Protein: 3
Vegetables: 2
Carbohydrate: 1
Fruit: 1
Fats: 3