Seasoned Sweet Potato Fries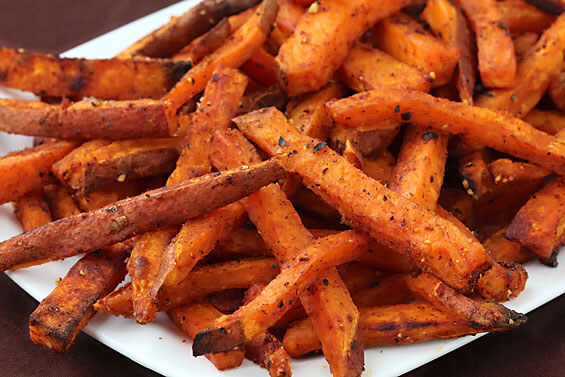 This recipe was taken from Diane Sanfilippo's, "21 Day Sugar Detox." You can purchase this book here.
Ingredients:
2 medium sweet potatoes
1 tablespoon coconut oil, melted
1 teaspoon ground cumin
1 teaspoon granulated garlic
1/2 teaspoon ground cinnamon
1/2 teaspoon black pepper
1/4 teaspoon sea salt, or more to taste
Directions:
Position 2 oven racks in the top third of the oven and preheat the oven to 450 degrees F. Line 2 rimmed baking sheets with parchment paper.
Cut the sweet potatoes into 1/4-inch thick sticks.
In a medium bowl, combine the melted coconut oil and the spices. Toss th sweet potatoes in the coconut oil mixture until evenly coated. Place the sweet potatoes on the prepared baking sheets in a single layer, spaced evenly apart.
Bake in the upper part of the oven for 15 minutes. Flip over the sweet potatoes and switch the position of the baking sheets if one is browning faster than the other.
Cook for an additional 10 to 15 minutes oruntil the edges of the fries are dark golden brown.
Season with an additional salt, if needed, while the fries are still warm, and serve with homemade Ketchup, if desired.
Serves 4
Exchanges:
Carbohydrates: 15 grams
Fats: 1
Register for FREE Virtual Dispensary Access to Only High Quality Pharmaceutical-Grade Supplements: Ask Us How You Can Get 15% off When You Are A Wellness Program Member