Sauteed Pork Chop with Curry Sauce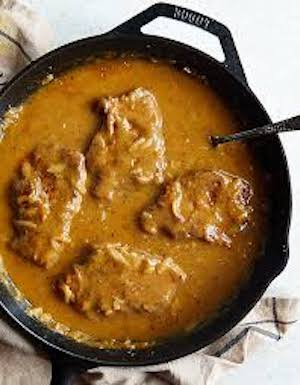 Ingredients:
4 (1-inch-thick) bone-in pork loin chops
Salt and pepper
2 tablespoons unsalted butter
2 tablespoons avocado oil
1 onion, thinly sliced
2 teaspoons curry powder
3/4 cup chicken broth
3/4 cup coconut milk
Directions:
1. Pat chops dry; season with salt and pepper. Melt butter with oil in a large, heavy skillet over medium-high heat. When bubbling stops, add chops and cook until browned, about 5 minutes on each side. Remove, place on a plate and cover.
2. Pour off all but 1 tablespoon fat from skillet. Add onion and curry powder. Cook, stirring often, until onion is slightly softened, 2 to 5 minutes. Pour in broth and cream. Increase heat to high and bring to a boil.
3. Return chops to skillet and cook until liquid is reduced by half and pork chops are cooked through, 10 to 12 minutes.
Serves 4
Exchanges:
Protein: 3-4
Fats: 4-5