Mediterranean Orange Spinach Salad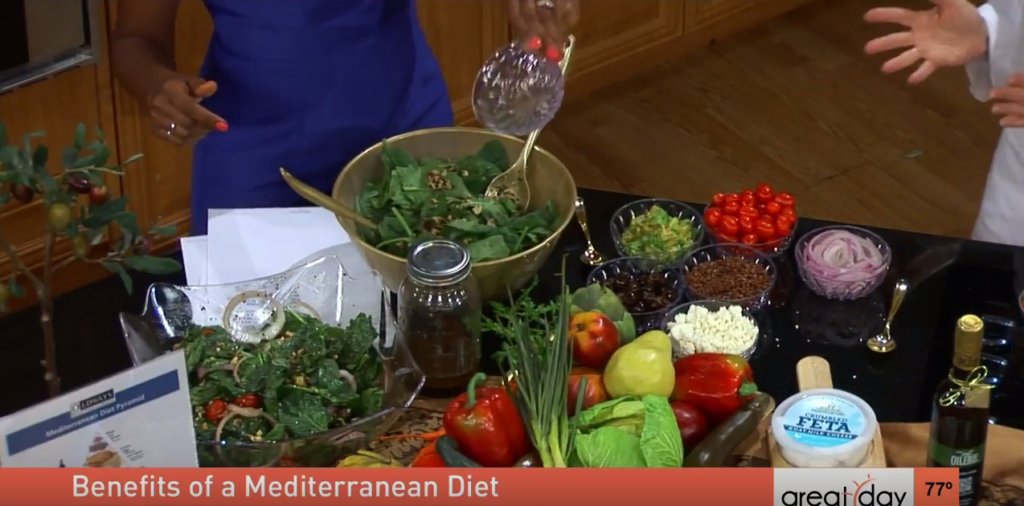 I made this delicious salad on my appearance at Great Day Washington, for International Mediterranean month. It was a big hit. Watch my segment here. Enjoy!
Ingredients:
    Spinach Salad*:
10 to 12 ounces spinach leaves
1/2 chopped walnuts
1/2 small red onion, sliced into thin rounds
1 large avocado sliced, chopped
1 cup cherry tomatoes or sun-dried tomatoes
1 cup feta cheese, crumbled
1/2 cup black olives, sliced
1 cup quinoa, cooked
*All ingredients are approximate: add more or less based on your taste
    Orange Vinaigrette:
2 oranges, zested
2 small oranges, juiced or 1 large orange, juiced (~ 1/2 cup)
2 tablespoons balsamic vinegar
3/4 cup extra-virgin olive oil
1 to 2 tablespoons honey
1 clove garlic, minced
3/4 teaspoon salt
3/4 teaspoon freshly ground black pepper
Directions:
    Quinoa (kee-NO-ah):
Start out with 1 part uncooked quinoa (you will end up with three times as much cooked quinoa as dry) to 2 parts water: example: 1 cup quinoa and 2 cups water
Rinse the quinoa: Pour into a fine mesh colander and rinse under running water for at least 30 seconds. Drain well. The step removes any bitterness on the outside of the quinoa (caused by naturally occurring saponins).
Combine the rinsed quinoa and water in a saucepan. Bring the mixture to a boil over medium-high heat, then decrease the heat a bit to maintain a gentle simmer. Cook until the quinoa has absorbed all of the water, about 10 to 20 minutes (small amounts of quinoa will be ready closer to 10 minutes; larger amounts between 15 to 20). Reduce heat as time goes onto maintain a gentle simmer.
Remove the pot from heat, cover, and let the quinoa steam for 5 minutes. This step gives the quinoa time to pop open into little curlicues, so it's nice and fluffy. Remove the lid and fluff the quinoa with a fork. Season with salt, to taste.
Orange Vinaigrette Dressing:
Combine all ingredients in a glass mason jar, then seal the lid and shake until the honey dissolves and the ingredients are well-combined. Adjust flavor to taste, if necessary. For best flavor, allow to marinate for at least 30 minutes before serving over salad.
Store leftovers in the fridge for up to one week, and shake well before serving each time.
Spinach Salad:
1. Assemble all ingredients together in a large bowl and add salad dressing as desired.
Serves 4:
Exchanges:
3 vegetables
3 fats
1 carbohydrate
1 fruit
Register for FREE Virtual Dispensary Access to Only High Quality Pharmaceutical-Grade Supplements: Ask Us How You Can Get 15% off When You Are A Wellness Program Member