Homemade Balsamic Vinaigrette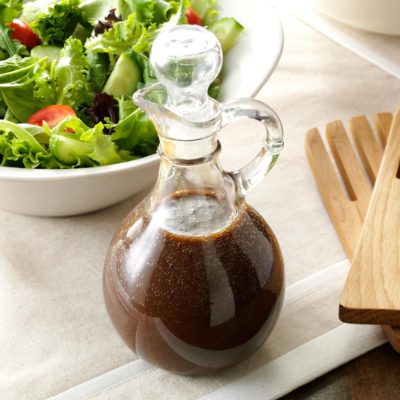 Ingredients:
2 teaspoons Dijon mustard
1 teaspoon chopped fresh oregano
1 teaspoon finely shredded fresh basil
1 tablespoon minced roasted garlic
1 1/2 teaspoons minced shallots
1 to 2 tablespoons honey
1/4 cup water
1/4 cup balsamic vinegar
2/3 cup extra-virgin olive oil
1/2 teaspoon sea salt
1/4 teaspoon ground black pepper
Directions:
In blender, combine the mustard, herbs, garlic, shallots, honey, and broth (or water).
Process on low speed until the garlic is incorporated.
With the blender on, slowly pour in the balsamic vinegar and olive oil through the hole in the lid.
Season with salt and pepper.
Chill in refrigerator until ready to use.
Store leftover dressing in refrigerator up to 3 days in an airtight container.
Serving Size: 2 Tablespoons
Exchanges:
Fats: 2
Carbohydrates: 2-5 grams