Green Bean Casserole for Thanksgiving Day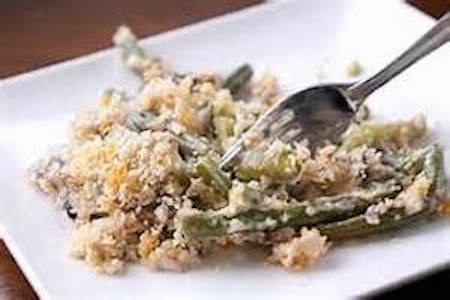 Everyone loves a green bean casserole for Thanksgiving Day, but the conventionally-made one with canned cream of mushroom soup and canned fried onions, just will no longer cut it for those who want a "clean" diet.  Here's a version created by Diane Sanfilippo, who wrote the 21-day Sugar Detox Cookbook, that is gluten-free, additive-free, and just plain "clean and delicious."
Get Your FREE Book Chapter in "PRESCRIPTION DETOX"
Ingredients:
1 teaspoon bacon fat or ghee
1 large shallot, thinly sliced (1/4 cup)
1 1/2 to 2 pounds green beans, trimmed
1 1/2 cups Creamy Mushroom Soup (see recipe below)
1/2 cup almond meal* or other nut meal
sea salt and black pepper
Directions:
Preheat the oven to 350 degrees.
In a small skillet over medium heat, melt the bacon fat, then cook the shallots in the fat until translucent and slightly browned on the edges, about 5 minutes.
Roughly chop the green beans and place them in a 9 x 13 inch baking dish.
Pour the Creamy Mushroom Soup over the green beans, then top evenly with the almond meal.  Sprinkle the top with salt and pepper and then evenly distribute the shallots across the top.
Bake for 20 to 30 minutes or until the sides of the casserole are bubbling.
Creamy Mushroom Soup:
Ingredients:
1 tablespoon bacon fat or ghee
1/2 medium onion, diced (1 cup)
sea salt and black pepper
1 dozen medium-sized mushrooms (cremini or shitake), sliced
leaves from 1 spring fresh thyme (1/2 teaspoon), plus an additional sprig for optional garnish
pinch of nutmeg
3 1/2 cups Bone Broth
1/2 cup full-fat coconut milk, canned or homemade
Directions:
In a large saucepan or soup pot, melt the bacon fat over medium heat, then cook the onion until it is translucent and the edges begin to brown, about 5 minutes.  Season lightly with salt and pepper.
Add the mushrooms, thyme leaves, and nutmeg to the pan.  Continue to cook until the mushrooms brown, about 10 minutes.
Add the Bone Broth and coconut milk and simmer for 5 minutes.
Using a slotted spoon, remove 1/2 cup of the mushrooms from the pan and set aside. (For a completely creamy soup without any chunks of mushrooms, skip this step.)
Transfer the soup to a blender in 3 small batches, removing the center "valve" from the lid and covering the hole where the valve normally rests with a thick kitchen towel. Holding the lid in place with your hand, blend on low,then move to high speed after a few seconds.  Note that blending hot liquids causes them to expand, so rushing to blend this all at once or in an overfilled blender is not safe and will cause hot soup to splatter everywhere.
After blending all 3 batches, pour the soup into serving bowls and evenly distribute the reserved mushrooms.  Garnish with a portion of a thyme sprig, if desired.
Servings:  4
Register for FREE Virtual Dispensary Access to Only High Quality Pharmaceutical-Grade Supplements: Ask Us How You Can Get 15% off When You Are A Wellness Program Member
Other Thanksgiving Day Courses:
Foundational:  Bone Broth
Pumpkin Pepper Hummus
Roasted Pumpkin Soup
Best Turkey Ever
Grain-Free Stuffing
Grain-Free Gravy
Sweet Potato & Butternut Squash with Pecans
Cranberry Sauce with Oranges and Fresh Mint