Cinnamon-Raisin Breakfast Bread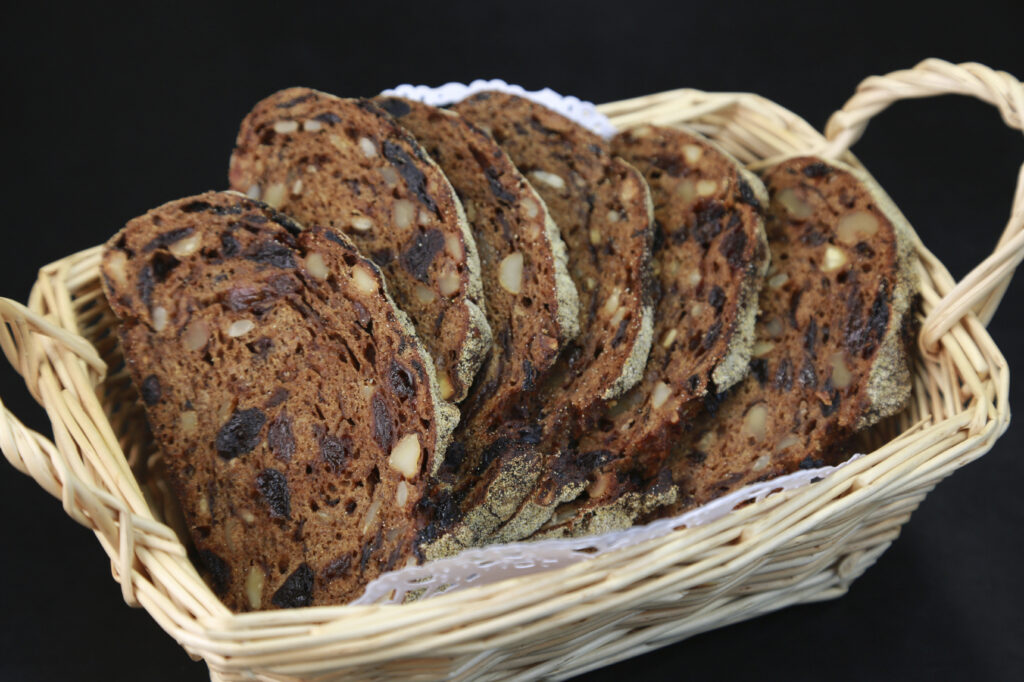 Are you missing your breakfast bread on your new gluten-free, grain-free eating plan?  Well, I have got just the cure that will quench that craving without raising your blood sugar sky high!  This recipe is the perfect ratio of macronutrients (see below) and is full of some amazing healthy ingredients, including raisins.  What raisins?  Don't they raise my blood sugar?  Actually raisins are a very good "go-to" recovery snack when you might experience low blood sugar from an insulin dose, but they have actually been shown to lower blood sugar after meals and promote fullness.  You see, when raisins are combined with healthy fats and proteins, as in this recipe, they are an excellent food for people with diabetes and help balance blood sugar.  In addition, they are loaded with vitamins (B vitamins), minerals (calcium, iron, manganese, potassium, zinc), fiber, and antioxidants.  Of course, moderation in everything is the key!
Ingredients:
1 1/3 cup almond flour
1/3 cup flaxseed meal
1 tsp baking powder
1/2 tsp baking soda
2 tsp cinnamon
1/2 tsp salt
3/4 cup raisins
1/2 cup chopped pecans
2 pasteur-raised whole eggs
1 pasteur-raised egg white
1/4 cup coconut oil (or butter or ghee)
1/2 cup coconut milk
Directions:
1. Preheat oven to 350. Prepare an 8-1/2 x 4-1/2 loaf pan by coating with coconut oil or ghee and set aside.
2. In a large bowl, sift together the almond flour, flaxseed meal, baking powder, baking soda, cinnamon, and salt.
3. Add the raisins and pecans and stir to combine.
4. In a small bowl, combine the eggs, egg white, softened/melted coconut oil or ghee, and coconut milk and beat lightly to break up the yolks.
5. Pour the egg mixture into the flour mixture and mix thoroughly with a wooden spoon or spatula, just until moistened.
6. Spoon the batter into the prepared loaf pan and bake for 40 minutes, or until a wooden pick inserted in the center comes out clean and the bread is firm.
Makes 18, 1 oz slices
Nutrient Composition (1 slice):
Calories:  196
Total Fat: 16.4 grams
Saturated Fat: 5 grams
Cholesterol:  23.2 mg
Sodium: 133.6 mg
Total Carbohydrate:  10.3 grams
Dietary Fiber: 3.2 grams
Protein:  5.6 grams
Macronutrient Distribution:
20% carbohydrate
11% protein
69% fat
Register for FREE Virtual Dispensary Access to Only High Quality Pharmaceutical-Grade Supplements: Ask Us How You Can Get 15% off When You Are A Wellness Program Member

Recipe is from Cravings4More