Better Purple Mashed Potatoes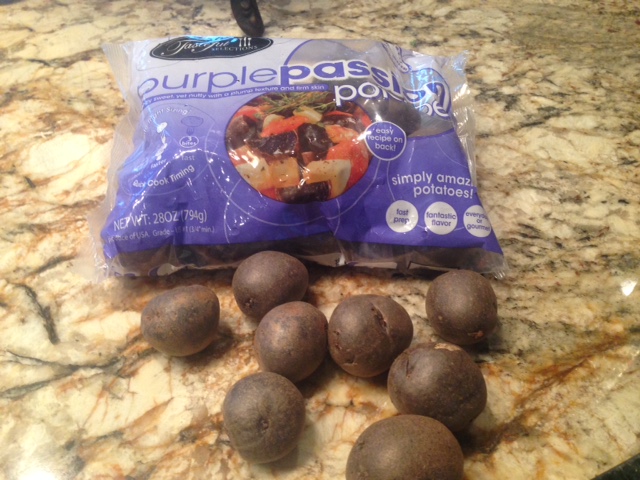 Purple Mashed Potatoes Improve Blood Sugar
I am often asked if potatoes are okay for people with diabetes to eat.  I wrote a blog about this a couple of years ago, which you can read HERE.  I still believe that potatoes are very nutritious and like almost all "real" foods, can be eaten as part of a well-balanced meal.  Since I wrote that blog post, I have discovered two additional ways to reduce the carbohydrate content of mashed potatoes, while still getting amazing nutrition:  Better Purple Mashed Potatoes
Register for FREE Virtual Dispensary Access to Only High Quality Pharmaceutical-Grade Supplements: Ask Us How You Can Get 15% off When You Are A Wellness Program Member
One way is with the use of "purple" potatoes!  Purple potatoes are a type of potato popular in South America.  Not only do they add color to your plate, but they are abundant in antioxidants.  They are very similar to the Russet potato in nutritional value, except they have 4 times as much antioxidants.  The purple color is created by the antioxidant, anthocyanin.  The extra antioxidants in purple potatoes make them even better than russet potatoes for helping to regulate blood pressure, due to their high potassium content.  They are also lower on the glycemic scale, therefore, blood sugar regulation is significantly better!
The amazing and delicious, "cauliflower" vegetable, can also help with lowering the glycemic index of mashed potatoes, while adding other nutrients and antioxidants.  More about cauliflower in another blog, but for now, enjoy this delicious and healthy "Better Purple Mashed Potatoes," with the addition of cauliflower.  For those with a palate difficult to change, give this recipe a try.  You will be surprised how great it tastes.  I have fooled many who could not tell the difference between regular mashed potatoes, and "Better" Mashed Potatoes!
 

Better Purple Mashed Potatoes
Ingredients:
Purple Potatoes equivalent to one large russet potato (~8-9 golf-ball size) (organic)
1 medium head cauliflower, raw (organic)
1/3 cup almond milk
1/3 tsp white vinegar
2 tbsp parmesan cheese, grated
1 tbsp olive oil
2 tsp organic butter, unsalted
1 tsp sea salt
1/2 tsp ground black pepper
Get Your FREE Book Chapter in "PRESCRIPTION DETOX"

Directions:
1. Add the 1/3 tablespoon vinegar (or lemon juice) to the almond milk and let sit for 5 minutes (homemade buttermilk).
2. In a large saucepan, place the whole small purple potatoes, garlic and cauliflower, and enough water to cover. Bring to boiling, reduce the heat to medium, and cook until the potatoes, and cauliflower are tender–about 15 minutes.
3. Drain and add the vegetables and garlic back to the pot. Cover the pot with a kitchen towel. Let stand for 5 minutes. Remove the lid and towel. This process helps to dry the vegetables so they mash better. Add the buttermilk, cheese, olive oil, butter, salt and pepper.   Mash* just until the ingredients are lightly combined.
* Mashing options: put the mixture through a ricer or a food processor for a smooth mash. Mash with a potato masher for a course mash.
Serves: 10
Nutritional Content:
Serving Size:  1/2 cup
Calories: 71
Total Fat: 3 grams
Cholesterol: 3 mg
Sodium:  273 mg
Carbohydrates:  10 grams
Fiber:  2 grams
Protein: 2.4 grams
Macronutrient Distribution:
55% carbohydrates
13% protein
32% fat